You expect your home to be the most comfortable and safest place. But you need to make certain efforts to ensure there are no hazards in your home. Do you know from where you can start? Well, considering that thousands of deaths and injuries happen every year due to domestic electrical accidents, you should prioritize electrical safety. It's all about recognizing the potential electric threats by checking all the electrical items around your home.
Following are the 6 electrical safety checkpoints for you to rule out any chances of electrical malfunction in your house:-
1. Check the AFCI & GFCI Outlets
Every 30 days, you should check whether the GFCI (ground fault circuit protection) outlet of the sockets around your bathroom and kitchen is intact or not. NEC recommends the GFCI outlets should be placed near your kitchen and bathroom. Also, ensure the updating of your regular circuit breakers with advanced AFCI (arc fault circuit interrupters).
AFCI is safer because it can detect any possible electric hazard in advance. According to NEC, AFCI is required to be installed in your entire home.
2. Check Your Extension Cord
Extension cords can be a temporary fix, but they are unsafe for prolonged use. Before using, you need to check that they are rated for indoor or outdoor use. The rating should be from a reputed independent laboratory like CSA and UL. Check the power supply required for the device connected can be met with the extension cord or not. If your extension cord feels hot when you touch it, that's a warning sign. You should also avoid reusing old electrical wires.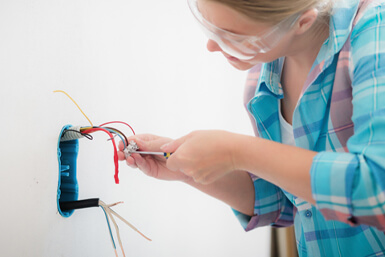 3. Check Outlets & Switches
Check your outlets and switches if they feel hot or warm when you touch them. Discolored switches with cracking or buzzing sounds are signs of an electrical hazard. Your plug should also fit the socket easily. There should not be any odd smell coming near the outlets. Call a professional electrician immediately if you smell burning plastic or a dead animal. Wiring of an outlet is also crucial. It would be best to ask the electrician to check your electrical Wiring entirely.
4. Check Your Smoke and CO Detectors
The smoke detector installation in your home should be appropriately done to cover all risky areas. They must be installed in every room, including the living room. Keep testing the smoke alarm from time to time that it's working fine or not. We hope you have CO (carbon monoxide) detectors installed in every room according to the rules. And you should check your CO detectors every 30 days.
5. Check Your Electrical Panel Box
We hope you don't make the common mistake of not checking your electrical panel box often. Ideally, you should maintain a label on your electrical panel about its last servicing date. If you haven't done that till now. Start doing it. Check your circuit breakers for any tripping or fuse blowing. You should know by the labeling of your circuit breaker about their connectivity with the outlets. Also, check the amperage rating of the breakers.
6. Use Your Senses
An active human mind can detect any danger with the help of its senses. So keep alert and use your sense of looking, listening, and smelling. Look out for any warning signs in your home, like burned or discolored switches and sockets. Be alert if you feel warmth around buttons or smell anything fishy. If you find anything faulty, call a professional immediately. You can do regular wiring checks yourself as well. Various house wiring guides for beginners are available on the internet for your help.
Apart from the above checklist, we are listing here 5 electrical safety rules:
1. Disconnect Completely: Whenever you are checking any electric installation, they should be entirely disconnected from the power source.
Secure Against Re-connection: It would help to double-check to ensure that any accidental reconnection of the electric installation to the power source is impossible while working on it.
Verify That the Installation is Dead: Use a voltage detector to verify that the installation is not receiving any current. Also, check the functioning of the voltage detector before use.
Carry Out Earthing and Short-circuiting: Connect the dead installation with cable and earthing system with short-circuit-proof earthing. Also, connect it with short-circuiting devices.
Provide Protection Against Adjacent Live Parts: If you can't discharge the installation parts in close vicinity, use electrical safety equipment while working, like covering the metal and insulating protective shutters.
Parting Words
It would be best to inspect your home at least once a month with the parameters of electrical safety as mentioned above. In addition, it will be a wise idea to call a qualified electrician yearly to check home wiring and other possible electrical safety hazards.
About Author