Contents In The Article
Hide
Why we need editing photo
Even after spending a lot of time taking excellent pictures, you could occasionally discover that the picture isn't as eye-catching as you'd like it to be. You should be aware that even experienced photographers often utilize photo processors to improve the appearance of their photographs. Perhaps editing photo style or the picture's defects.
Anyway, retouching your images will probably help them stand out from the competition. Photo editing is a creative process. Some photo editing ideas and fundamental picture editing rules must be mentioned in order to produce a good editing impact, especially for editing beginners.
Concerns for Image Editing
Do not directly alter the original.
Before beginning to edit the photos, we must first back them up so that we can always return to the initial stage if we are not happy with the results. Similarly, be sure to duplicate layers on your image before you begin modifying if you're using editing software like Photoshop; always maintain the original image. Another benefit of doing this is that, when comparing, you can clearly see the modifications you have made to the original image, allowing you to decide whether or not you like them.
Image quality is always guaranteed
When resizing an image or performing other actions, the pixels can occasionally alter, which can cause your image to become blurrier and blurrier as you edit it. As a result, you must make sure that the quality of your images remains constant after each update.
Don't overdo it
Whether or not your image is captured exactly how you want it to be, keep in mind not to overedit your photos. Consider if your edit appears to be excessively exaggerated — picture brighter than what you see in reality — in which case you may have overdone the contrast adjustment. Over-grooming your skin to the point of fakeness is another instance of this. Be mindful that excessive processing can cause your photographs to become too blurred by sharpening, losing some of the detail they should include.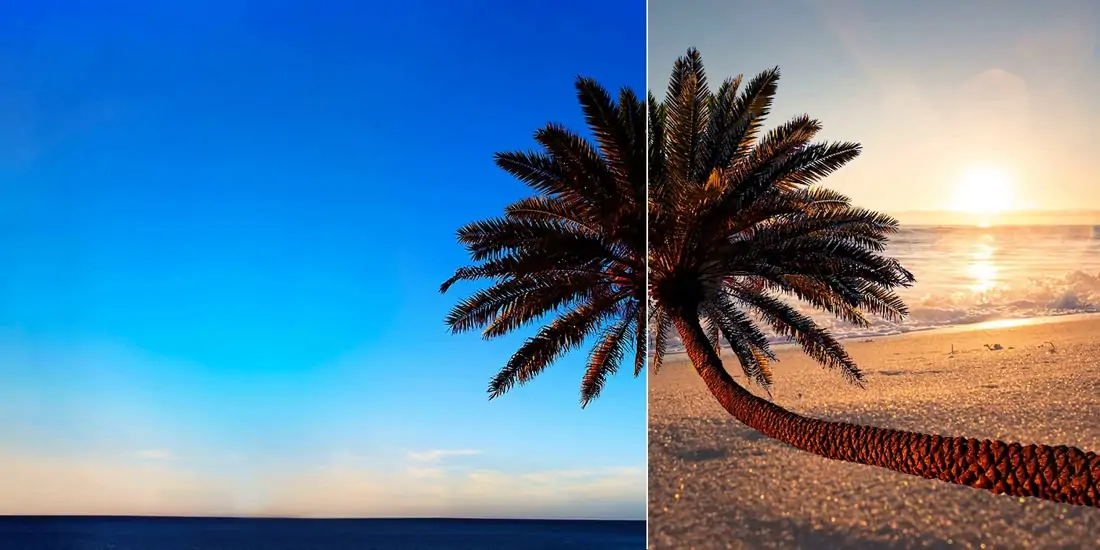 Basic image editing techniques: changing the background
Generally speaking, the photo background takes up the lion's share of the image and draws the most attention. Since a decent background is necessary in some cases, we can start by thinking about modifying the image's background. Usually, altering the background of the photograph to white or another solid color makes it appear clean, professional, and arresting. For instance, by eliminating and altering the background, we typically create a white product image, a bright yellow avatar image, or a blue background ID photo. You can instantly develop your own photographic style by changing the background.
Crop unnecessary items
If the background of your photograph appear strange due to the unnecessary items of the background, probably just come in a passing tourist, an odd telephone pole, or a moving vehicle. You might think about cropping them if they are small or are only in the corners of the image. Recomposing the photo and clearing the background might make the subject of the shot stand out more.
We can also think about eliminating the smudges and trash if they occur in the image's center; in many cases, this can be done by wiping the brush. If they are truly difficult to remove, another typical editing technique is to blur them out to give the impression that the we need to focus on other items except them.
Photo color settings
Your camera lens's glass may occasionally be scratched or discolored, resulting in a blurry image. And the final color of a photo you capture can be affected by a number of variables, including lighting, camera settings, environment, and more. As a result, when taking a shot, you can fail to see this natural hue shift before realizing it after the fact. Now is a wonderful moment to use post-processing to bring your photo's color back. By using colored filters, you can alter the tone of your image. Additionally, you can use some edit tool to enhance your photos' color. For your photographs, you can alter the saturation, shadow detail, and chiaroscuro lighting to give them a more upscale or ambiance-filled feel.
Retouch
Nobody's face is flawless. In order to eliminate any imperfections, wrinkles, or skin blemishes in a natural, unobtrusive way, model photographers frequently utilize picture retouching. It enables model photographers to apply digital makeup by modifying features such as skin tone, lip color, haircut, and brow shape. The final objective is to improve the model's appearance.
Insert borders, stickers, and text.
This is the last tips of editing that is done for marketing and societal reasons. To express your uniqueness and get people's attention in market and channel, you can embellish your photos with lovely and current popular stickers. You can promote your work and draw viewers to you by placing tiny, indistinct text in the edges of your photographs.
About Author